Thank you, Shutterfly, for sponsoring today's post and helping me come up with a great gift idea for my niece and nephews!
Do you struggle with coming up with a gift idea for other people's kids? I do! There are only so many toys that will fit in the toy box, and clothing sizes are some kind of random guessing game it seems. (Besides, what child do you know who will be happy to open a sweater on Christmas morning?) 😉 I try to buy things throughout the year and fill my gift box slowly for the busy birthday and Christmas season in our family. However, this year I used up my stash for all the birthdays and was left with an empty box for Christmas. While I was scrolling through Shutterfly choosing our Christmas cards, I came across a new product they are offering: custom placemats. 
It's brilliant! Parents will love them because they capture a moment in time with a favorite photo, and kids will love them because they have their NAME written right there! No one else can claim it because it's THEIRS. 🙂 The fact that they save your table or counter tops from meal-time messes is just a nice bonus. There are lots of different styles to choose from. Charlotte looked so cute in her Minnie Mouse ears-it was a perfect match for the Disney placemat. I just dragged and dropped the photos right onto the frames and clicked "add to cart." BAM! Another Christmas present- DONE. Yes!
To fill out the gifts a bit more, I found matching dish sets on Amazon (affiliate) so each nephew and niece will get their own personalized placemat and set of dishes. Am I going to be the cool Aunt this year or what?!?
As I mentioned above, I was originally on Shutterfly looking for Christmas cards. This year they have these super cool ornament cards available! I had a TERRIBLE time trying to get a photo of all three of my boys together. Here's one of my "favorites."
Yeah, I'm not going to send that out to our friends and family. 🙂 After scrolling through 50 photos that I hated, I finally decided to make individual ornament cards instead. I'm so happy with how well they turned out. Each one has a paragraph on the back sharing some memories from the year or personality quirks that I don't want to forget.
Our tree is full of ornaments that have special meaning to us. I made sure to order enough cards so that I can keep one to hang on our tree every year. I tried to include things about each boy that I will probably forget as time goes on, like how Charlie loves to tell stories, Henry hates sad movies or that Bryce was in the spelling bee. They will be as special to me as the fingerprint snowmen, paper bells and macaroni ornaments. They may not be as pretty as fancy glass-blown ornaments, but they are far more special!
If you are looking for a way to display all the Christmas cards you receive this year, try this simple trick I wrote about last year!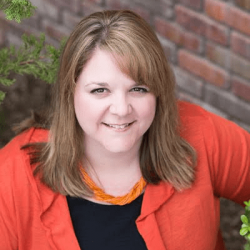 Hi, I'm Nicole!I love chocolate chip cookies, good grammar, and trying new things. Pinterest is my happy place. Come follow me down the rabbit hole!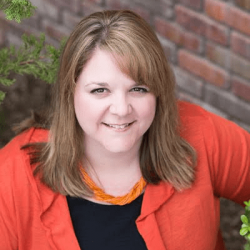 Latest posts by Nicole Burkholder (see all)