Teach kids a little about nature while making a DIY Hummingbird Feeder like one of these! It's a fun way to recycle those plastic containers! 
At first glance, this looked like a horrifically large spider had taken over one of our backyard patio lights. Our light strand suddenly stopped working the other night, so we were out looking to see what was going on and I noticed this mess. While Jared and I were standing on the porch, a hummingbird starting darting in and out of the patio cover and wouldn't leave. That's when we realized-it's a NEST!
The hummingbird is still working on it. She brings new sticks, pieces of lint, and random debris every day. I'm surprised at her choice of location, but to help her out a little, we decided to make a DIY hummingbird feeder for her. I searched for ideas on Pinterest and we made two different feeders: one standing and one hanging mini feeder.
I started with this idea from Do It Yourself RV using a spice jar. I really didn't want to go buy any supplies or do anything fancy. We're just trying to help out a little birdie mama, not attract all the hummingbirds in the city. 🙂 We gathered our supplies and gave it a try.
Attempt #1: Spice Jar Hummingbird Feeder
Empty spice jar
Twine
Hammer
Nail
The idea is simply to poke holes in the top of the jar (which is very conveniently already red) and hang it up. Wire would be better because you can get a good grip in the bottle and angle it a bit, but twine seemed to work for us initially. BUT, this is what happened when Charlie and I hammered the nail down into the lid:
Oops. I'm thinking my several-years-old spice jar was just a bit too dry. It cracked as soon as we started pushing the nail through. OK, time for plan "B."
Attempt #2: Condiment cup hummingbird feeder
I found another small plastic container (affiliate) cup for salsa and pushed the nail through the lid very easily. The only problem is this one wasn't red, and hummingbirds are attracted to red. So my little helper got to do one of his favorite things-painting! 🙂
After Charlie painted the lid red (which, incidentally, he painted the wrong side-you need to paint the outside so the sugar water doesn't get paint mixed into it. No need to kill our little feathered friends!) Anyway, he painted the lid and I found some wire to push through to create a hanger.
Then we popped the top on and it was ready to fill! Making the food is super simple-it's just sugar water!
Hummingbird Food
1 part sugar
4 parts water
Boil the water, and then stir in the sugar until it dissolves. Allow to cool to room temperature and then fill the feeder. Keep remaining food in the refrigerator for a few days to refill as needed!
We hung this little cup off the porch light frame near the nest. I have tried to get a photo of the mama bird a few times, but she's just too fast! We'll see if she uses it or not over the next couple days. 🙂
Attempt #3: Standing Hummingbird Feeder
While I was looking at DIY ideas, I also saw several standing feeders made with bottles. Most had straws or more complicated parts, but I thought this one looked promising. The blog this was originally linked to no longer exists, so there's nothing to work from but a picture, but it's pretty easy to figure out.
Empty plastic bottle
Small plastic container
A 1/2 pint sour cream container would be perfect for the bottom container. It needs to be shallow so the birds can reach the sugar water easily. Of course, I did NOT have one in the refrigerator, so I had to make do with another one of my little plastic cups. I grabbed a root beer bottle out of the recycling bin for the top and got busy. Simply cut a hole in the lid of the bottom container and push the bottle through. Punch some nail holes in the lid, paint it red or color with stickers and you're done!
We put both feeders out on the porch to test which one the hummingbird likes better. The standing feeder is on the table under her nest, and the hanging one is up higher and next to the nest. Now we just get to sit back and watch! 🙂
I also saw this one from Hummingbird Food HQ, but I don't understand how it would really work. How does the bird get to the nectar? It would be down below the cut out, so the birds would have to reach down inside at an awkward angle. I don't know, they can hover, so maybe it would work?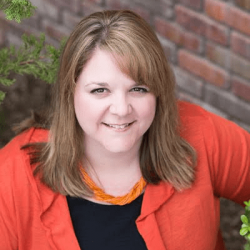 Latest posts by Nicole Burkholder (see all)