A couple weeks ago I made four different freezer to crock pot meals. Tonight we had the third one, which was by far the most successful of the bunch. Click here to see my post with the recipes of each meal.
I pulled my bag out of the freezer this morning and let it thaw on the counter for 30 minutes or so. This just makes it easier to get out of the bag. Then I tossed the chunk into the crock pot and set it on low. The recipe calls for 8 hours, but mine was done in 6 hours. This may have been because I used boneless thigh meat instead of breasts. It does turn out very "soupy" and I was in a bit of a quandary as to how to serve it. I ended up using a slotted spoon to scoop it up into tortillas and made burritos out of it. I made some Mexican rice and added that to my burrito, which ended up looking like one of Freebirds monster burritos! I am still full. It would have been good served over rice in it's "soupy" form as well. I left the crock pot on Warm for Jared and when he got home, he ate his in a bowl like a hearty tortilla soup. We had crunchy tostada shells and he used those to scoop up the soup. Serving it that way has the benefit of adding texture to your meal. My sister-in-law just made hers yesterday, and she served it as burritos with the chicken shredded and added toppings like cilantro and onions.
Of the three meals that we've tried so far, this one had the most flavor. The other two were a bit bland for my taste. This recipe is very similar to the Chicken Fiesta Soup I've made before, and I like that one better. But the added benefit of this recipe is the fact that you can make it ahead and have a meal ready to go.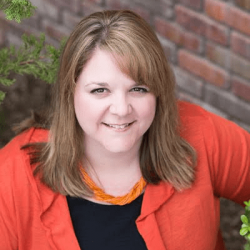 Latest posts by Nicole Burkholder (see all)