Tomorrow is shopping day!!! I can't wait to get the ingredients of the new recipes I've been dying to try over the last two weeks! Pay day is almost here 🙂 But for today, I'll do another recipe from my
Tried and Reviewed
board on Pinterest. I got this recipe in an email from Better Homes and Gardens. They are a great site that I would actually recommend signing up for their emails. So many yummy recipes and good ideas come to my inbox from them. This recipe for
Chicken Enchilada Pasta
was in a collection of favorite casserole dishes. It has a close cousin floating around on Pinterest going by Mexican Stuffed Shells. Whatever you want to call it, it is surprisingly good! I didn't think I would like refried beans stuffed in a pasta shell, but I was happily proven wrong. I've made this recipe a few times for ourselves and once for a potluck. The dish always comes back empty, so that's a good sign!
ingredients
1 12 ounce package dried jumbo shell macaroni
3 3/4 cups chopped large green and/or red sweet peppers (3 large)
1 1/2 cups chopped red onions (3 medium)
1 fresh jalapeno chile pepper, seeded and chopped*
2 tablespoons vegetable oil
2 cups chopped cooked chicken
116 ounce can refried beans
1/21 1/4 ounce package taco seasoning mix (3 tablespoons)
210 ounce can enchilada sauce
1/4 teaspoon salt
2 cups shredded Mexican-style four-cheese blend (8 ounces)
1 cup sliced green onions
2 cups nacho-flavor tortilla chips, crushed

Sour cream
directions
1.Preheat oven to 350 degrees F. Cook pasta according to package directions; drain. Rinse with cold water; drain again.
2.In large skillet cook sweet peppers, red onions, and jalapeno pepper in hot oil over medium heat about 5 minutes or until tender. Stir in chicken, beans, taco seasoning mix, 1/2 cup of the enchilada sauce, and the salt. Cook and stir for 5 minutes. Stir in 1/2 cup of the cheese and 1/2 cup of the green onions.
3.Spread 1 cup of the remaining enchilada sauce in a 3-quart rectangular baking dish. Spoon chicken mixture into cooked shells. Arrange filled shells in the baking dish. Drizzle with remaining enchilada sauce.
4.Bake, covered, for 30 minutes. Sprinkle with remaining cheese. Bake, uncovered, about 5 minutes more or until cheese is melted. Sprinkle with chips and remaining green onions. Serve with sour cream.
The only thing I changed about the recipe was eliminating the jalapenos (not kid friendly) and the chips on top. I didn't think it really needed any more calories, and they are just for texture. Top the shells with sour cream or guacamole. Yum!
NOTE: The shells freeze well! I had some leftover and I put them in an air tight container with some space between each shell. Then whenever I wanted a hot lunch, I just pulled one or two shells out and microwaved them for a quick treat. Surprisingly good!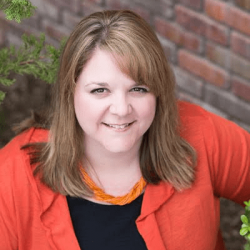 Latest posts by Nicole Burkholder (see all)