This year for Mother's Day, my broke-ness (n., the state of being broke; to have a lack of $$$) drove me to become something I'm not, nor ever will be: "crafty".  And I mean that in the Michael's/ JoAnne's/ specialty store kind of way, not the Big Bad Wolf kind of crafty.  Thank goodness for Pinterest!  If it weren't for the hundreds of ideas posted there daily, my mom would have received another macaroni necklace for Mother's Day this year.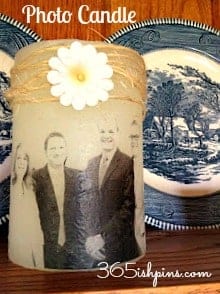 Knowing my mother's sentimental side, I was drawn to personalized gifts.  I found this great idea for a photo candle and was happy with the few supplies it would take to make.  As luck would have it, Charlie broke a large globe in my mom's house about a week before Mother's Day.  It contained a brand new pillar candle that was just perfect for mom's gift! So, I "borrowed" it from her while she cleaned up the shattered glass (nice work, Charlie- just saved me $10, easily!)
……Aaaaaaand we're back.  The aforementioned ten-month old was climbing up my leg while I was sitting here, so I picked him up and lifted him high into the air.  You guessed it- here comes lunch! All over my face, in my mouth and in my hair.  This wasn't the cute little baby spit-up, either.  This was chunky, smelly, gag-inducing, baby puke.  Yuck.  So after my second shower of the day (including hair washing/face scrubbing and tooth brushing) and nap time for Charlie, I'm returning to try again.
So after I grabbed my mom's candle, I printed out a photo I had taken with my brothers at church the week before.  I printed it in black and white on plain white tissue paper.  I taped the edges of the paper over a piece of card stock so it would feed through the printer easily.  I cut around the picture so it was just our faces and bodies and no background.  Then, using straight pins to hold the tissue photo in place on the candle, I used a blow dryer (the directions called for a heat gun.  I have no idea what that is.) on high heat to soften the candle wax until it "absorbed" the tissue paper by saturating it with wax.  The edges of the paper just disappeared into the candle!  What was left was a candle that looked like the photo had been printed directly onto its side.  I decorated the candle with some twine and a scrapbook flower and wrapped it up for Mom.  So easy, so cute, and practically free.  I'm pretty sure it was Mom's favorite gift.  Just saying.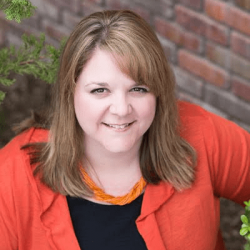 Latest posts by Nicole Burkholder (see all)