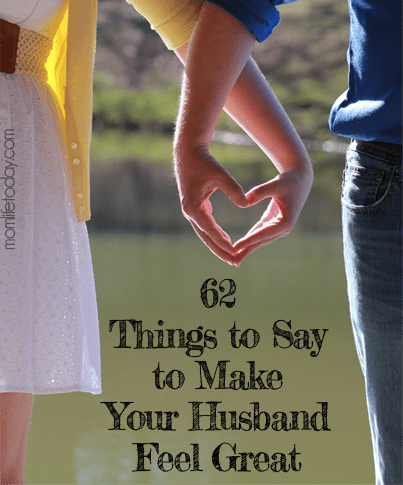 Have you seen this image from Mom Life Today floating around Pinterest this week?  This caught my attention because I'm terrible at this kind of thing.  Speaking "words of affirmation" always feels awkward and scripted to me.  But they satisfy a man and his need for respect and admiration.  Reading through this list encouraged me to make more of an effort to speak the things that I already think about my husband.
There were a few things on this list that I thought, "I got that down-I say/do that all the time."  But then there were so many more that I never do!  Who doesn't like to be complimented?  Especially when it's about something very specific!
"I like the way you played with the kids tonight.  You are a great dad-they really love you."
Something like that is so memorable and will fill your man with pride and confidence.  I know I love it when he gives me a specific compliment.  "You look great in that dress and heels" is better than "You look good today."  I mean, I'll take any compliment and affirmation he gives, but I love details.  Because now, every time I wear that dress, I smile and carry myself more confidently.  I'm ashamed to say I don't turn around and reciprocate often enough.  So I have determined to work as many of these into our daily conversations as organically as possible.  I don't want to sound like I'm just reading off a list.  I may also work some into our love journal.  I plan to pay more attention and watch specifically for things I can thank him for.  Besides, it's hard to fight with someone when you're actively trying to "catch them" being awesome 🙂
Please read this great post from Mom Life Today and then come back and comment about what you would like to work on-because we can all do better!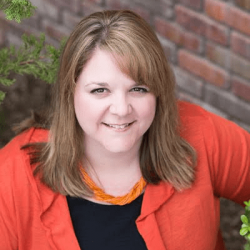 Hi, I'm Nicole!I love chocolate chip cookies, good grammar, and trying new things. Pinterest is my happy place. Come follow me down the rabbit hole!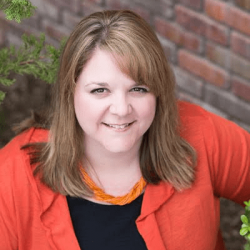 Latest posts by Nicole Burkholder (see all)