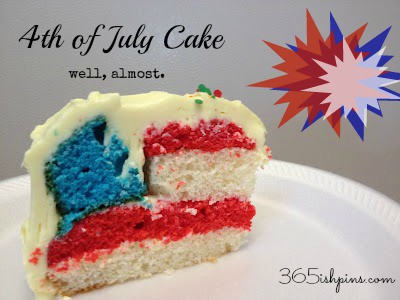 So, there is obviously a reason I am NOT a professional baker.  I think I bit off more than I could chew with this little "project."  My results are
far
less beautiful than
the original
! My cake really looks like a child's attempt at an adults job.  Kind of like a little girl that puts on her mom's make up.  But, the purpose of this blog is to try new things as well as pass on what I've learned to help others try new things.  And I learned a lot working on this one!  For example, the right tools make all the difference. And the right ingredients!  I know mine would have been better if I had what I truly needed.  Oh well, maybe next time.  I'm still bringing my cake to the picnic- I'm just
also
bringing my stand-by deviled eggs!
One thing I didn't like about the original blog was that there were no pictures of the process.  Just a lovely one of the finished product.  Her descriptions were excellent, but it would have been nice to see each step.  So when I made mine, I took pictures along the way.  (It is also obvious that I an NOT a professional photographer.  You use what you have- and that's an iPhone)
I knew this would be hard enough, so I just purchased two white box cake mixes and two cans of vanilla frosting.
Mistake #1: I should have made the cake with egg whites only instead of whole eggs to keep it purely white.  
Mistake #2: I purchased yellow vanilla frosting on accident.  So much for a clean, white cake.  
I made the cakes yesterday.  One white, one red and one blue layer in 9″ pans.  I also had an extra white layer because I made two box mixes.  Then I wrapped them in plastic and left them in the refrigerator all day and night to make them easier to cut and layer.
This morning, I began by cutting the white and red layers in half horizontally.
Mistake #3: I didn't have a single toothpick in the house to use to help me guide my knife as I sliced the layers in half.  I ended up with pretty uneven layers.
I put one white half layer on the cake plate and frosted it lightly to stick the layers together.  Then I centered a red half layer on top of the white and frosted it lightly.
The next step was a little tricky.  I placed the other white layer on the counter, put the other red layer on top of it, and put the uncut blue layer on top of those.  Using a formula can lid as a guide, I cut around it through all three layers.  I pulled out the center of the blue layer and put it aside.  You only need the outside ring.  I placed that on my red and white layers already on the cake plate.  I then took the centers of the white and red layers that were cut and put them inside the blue ring.
Mistake #4: I didn't frost between the ring layer and the two white and red layers to help hold them together.  They seemed to fit tightly enough, but given a little time, they started to separate.
Once I had all the layers on the cake plate, and frosted the entire thing.  Once again, it would have looked nice if it wasn't yellow vanilla frosting.  Dumb.  I used some sprinkles and wrote 1776 on top just for fun.  I let the cake sit in the refrigerator for about an hour and then cut a slice to see my finished product.  Not horrendous, but certainly not something to be celebrating either.  But, if I do this again, I know I could do a better job.  Experience is a great teacher!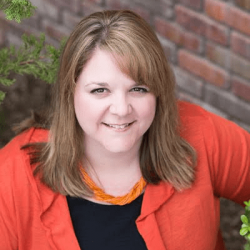 Hi, I'm Nicole!I love chocolate chip cookies, good grammar, and trying new things. Pinterest is my happy place. Come follow me down the rabbit hole!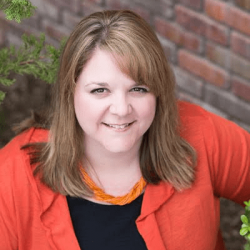 Latest posts by Nicole Burkholder (see all)