Ah, the best season of the year is upon us!  My house smells like cinnamon and sugar cookies, my mantle is alive with greenery and lights and my $1 after Christmas sale stockings are all monogrammed and looking lovely.  The only thing missing is the smell of pine and the sparkle of our tree.  We get a fresh one every year, and it was just too early to get one the day after Thanksgiving.  It would be dead two weeks before Christmas! So this weekend our decor will be complete.  Because the decorations are up, the boys are already getting excited about Christmas.  We have two countdown calendars already, but I came across this idea on Pinterest and it was too cute to ignore.
Wrap up 24 books and every night let the kids pick one to open and read before bed.  Our boys love to read with Daddy every night anyway, and this is a fun way to start the gift opening early 🙂 I started looking at garage sales a couple months ago, and I managed to buy 10 new books (well, new to us) for this project.  6 of them are Christmas books, and 4 of them are just every day kids' books.  Then I scrounged through our bookshelves and found 4 more Christmas books of our own to add to the pile.  I still needed 10 books and it was too late and too expensive to buy any more, so I hit the library today.  I checked out 5 Christmas books and 5 regular ones.  I will have to explain that we don't get the keep the library books, but I don't think they will really care.  We go to the library all the time.  I'm blogging this today so you still have time to go get some books and start the Christmas fun early this year!
Our mantel this year- But it loses something in the harsh light.
Imagine it sparkling at night instead.
(The Christmas tree and candles in my painting light up and sparkle- how cool is that?!?)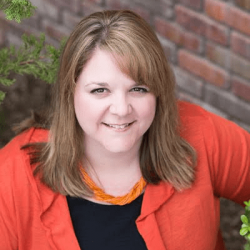 Hi, I'm Nicole!I love chocolate chip cookies, good grammar, and trying new things. Pinterest is my happy place. Come follow me down the rabbit hole!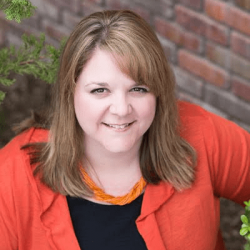 Latest posts by Nicole Burkholder (see all)