There must be a billion Fall crafts and projects on Pinterest.  Is it wrong that I am SO not interested in the artsy-crafty stuff?  I'm talking about the kids' crafts for the most part.  I look at those posts and all I see is a mess to be cleaned up after trying to coax a less than eager child into doing something he's really not interested in at all.  Maybe it's because I have all boys.  Or maybe it's because I didn't inherit the craft gene.  I don't remember doing anything like that with my mom when we were kids, either. 
 Pinterest does have a way of making you feel inferior when you think about these Blogger moms and their cutesy houses with their photogenic children and museum worthy art projects.  Oh, and they are all geniuses, too.  Because they have been home schooled since they were 6 months old.  And they grow their own food, grind their own wheat, make fresh bread every day and still have time to tell the blogosphere all about it.  Some of them even get on Today, or Rachael Ray, and go on to host their own cable show.  
I think I've gotten a little off topic, though.  Anyway, I saw an easy little template for a shapes and colors worksheet today.  I thought, "That, I can handle."  Click print.  Give to Henry.  Practice colors and shapes for 5 minutes.  Done.  
Actually, as soon as he finished coloring this cute little scarecrow, he proceeded to cut it into little pieces and left it all over the table.  I told him he needed to clean up his mess.  He replied, "But Mom, when boys cut things and make messes, girls need to clean it up."  Uh-oh.  We may need to do some teaching on the roles of men and women in general, as well as personal responsibility. Ha ha ha!!!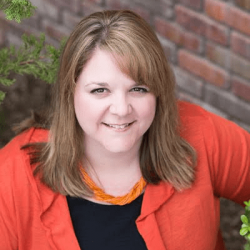 Latest posts by Nicole Burkholder (see all)