Thank you, Shutterfly, for sponsoring this post! All opinions and designs are 100% my own.
I know that many of you are feverishly working on last minute Halloween costumes and shopping for candy…oh man…I just realized I haven't bought any candy to hand out yet! Add that to my last minute to-do list! Anyway, Christmas cards may be the very last thing on your mind right now, but it's coming sooner than you think! And if you like to create your own personal holiday cards, it takes time to get the photos done, design your cards, order them from Shutterfly and then get them in the mail! And then you need to come up with an easy way to display your masterpiece!
The first card that I made was a 5×7 tri-fold card. While attempting to take photos of my boys together, I realized the chances of getting a decent one with all three of them at the same time were slim. So I snapped a bunch of them together and then took individual shots as well. I'm so glad I did, because those turned out the best! This tri-fold card was perfect for giving each boy their chance to shine in the spotlight! 🙂 On the back there's a page for a collage of smaller photos, room for writing a family newsletter and one more panel for final greetings and yet another photo. I chose this card to send to our out of town family so they could see lots of photos and read about what's been happening in our lives this year.
We also exchange cards with our church family, so I chose a more simple photo card for this one. I didn't need room for a note from the family or lots of images, and I LOVE the foil stamped message on the front! It's shiny and looks so festive! There's room on the back for another photo and some lines of text. You can even chose from several different backgrounds and paper styles to make it totally unique!
Here's where it gets really fun! You can order coordinating address labels, stickers, and even personalized postage! Postage! I wanted to use a photo of the boys for the stamp, but I didn't have a good one with their heads close enough together, so I opted for a monogram instead. I chose the same bright colors that are on the tri-fold card to go on the address labels and stickers. I just love how great they all look together. And get this-Shutterfly will even address and mail your cards for you! If you are in a time crunch and you know you won't actually stuff the envelopes and get them into the mail before Christmas, then let them do it!
I personalized these elegant stickers to go with the red foil-stamped cards as well as to use for gift tags all season. I can add these to cookie tins and other baked goodies we pass out all Christmas season. Speaking of baked goods…
I've always wanted to host a cookie exchange! When I saw this party invitation all done for me, I added it to my cart. How could I pass it up? It's much more "official" when you get an invitation in the mail anyway. 🙂 I had to look way ahead in my calendar to choose a date, but I'm going to host a cookie party! Yay! 🙂 I put one of my favorite cookie photos (which I also included in my dining room wall gallery) on the back and on stickers to put on the envelopes. The front design was completely done for me, I just had to add my information. Bam! Done.
Now, on to how I decided to display all my lovely Christmas cards this year. Because you KNOW I'm going to hang up my own cards. They are too cute to send them all away and never look at again! 🙂 And I start getting cards in the mail and at church the week of Thanksgiving. So I put together a very simple and pretty way to display them all.
Usually, I just tape the cards to the door that leads out into our garage. It's right off the kitchen and in the room where we spend most of our time as a family. But this year I decided to make it a bit more pretty, so I covered a bunch of clothespins in Christmas washi tape and hung wide ribbon across the door. It's wrapped around and taped on the back side. I started with three strands of ribbon, but I'm sure I'll add more as I need it.
I simply hung the clothespins on the ribbon and then clipped the cards to them. How easy is that? And it's so pretty!
There are so many fun, whimsical, sentimental, beautiful, elegant, stunning-AMAZING designs to choose from on Shutterfly that you are sure to find something you like. I spent hours perusing all the cards and plugging my photos into them to see what worked. I love having that freedom to play around and see what the finished product will look like! This year, send Perfectly Personal™ greetings and be sure to add my name to your list! If you make a card on Shutterfly, I want to see it! I'll email you my address. 😉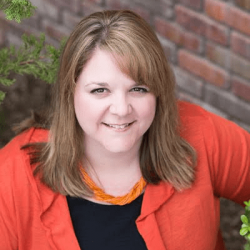 Hi, I'm Nicole!I love chocolate chip cookies, good grammar, and trying new things. Pinterest is my happy place. Come follow me down the rabbit hole!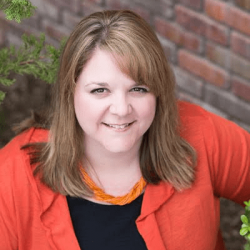 Latest posts by Nicole Burkholder (see all)