This twist on a traditional chicken pot pie isn't going to take home any beauty awards, but it is a comfort food! It's hearty, full of veggies and comes together in less than thirty minutes. So, even though it's not as camera-friendly as a chocolate cupcake topped with creamy frosting and drizzled with caramel, Chicken Pot Pie Pasta will keep your tummy satisfied on these cool Fall nights. 🙂
I got the idea to try this from a pin (of course) of a recipe by Martha Stewart. That right there should have warned me- this will NEVER look the way hers does! 🙂 I made some changes to her recipe based on our family's tastes and budget, which is why ours was so different from the original. When I went shopping this week, boneless, skinless chicken breast was $2.78 a pound, and chicken leg and thigh quarters were on sale for $.88 a pound. Yeah, guess which one I got? Chicken breast would cook up and cube nicely for this meal, and if you've got it, I suggest you use it! But I had dark meat to work with, so I boiled the leg quarter, removed the bones and skin and shredded the meat. The other big change was that I replaced the celery with peas. Peas taste good, but they don't hold up well to cooking and stirring, so things ended up a bit "green" and less than lovely. BUT, my kids got a ton of veggies in their meal and no one complained about them, either! So play around with this and adjust the veggies to your own family's taste.
***Quick update***
The leftovers have been in my fridge for a couple days and I've been enjoying them for lunch. The first day, I tossed a small handful of Italian cheese blend on top before reheating and that was a wise decision. Yum. An even better one? I had leftover homemade Alfredo sauce that I used for a white pizza, so I tossed the sauce in with my leftover pot pie pasta. I warmed that up for lunch today. Cue the singing angels from Heaven. Oh, man, I may have just created something new and wonderful!
To see my just-OK-turned-awesome recipe, head over to The Best Blog Recipes where I'm contributing today!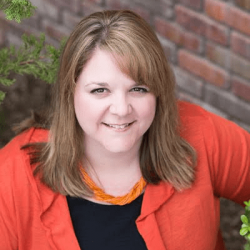 Latest posts by Nicole Burkholder (see all)