MMMMMmmmmm, just look at those beauties! Caramel Apple Pie Pancakes for breakfast, anyone?  No?  What about dessert, then?  Because these babies taste JUST like a slice of apple pie!  I signed up to participate in a contest called Get Your Chef On, hosted by White Lights on Wednesday and Four Marrs, One Venus.  It's an Iron Chef-like contest in that there's a secret ingredient you have to use to create a recipe of your own.  I noticed the posts about it going around a couple of months ago and it sounded like fun, so I started following their Facebook pages, waiting for the next round to open.  When they announced the ingredient, I was at a bit of a loss.  Applesauce?  I've never done this before, so I'm still not sure what they are expecting, but I let my mind wander around a bit and came up with this idea.  And I was not disappointed! Caramel Apple Pie Pancakes may be the new standard around here.  Even my "chocolate chip pancakes only" children ate these with gusto!
Caramel Apple Pie Pancakes
2 cups Bisquick pancake mix (I'm sorry, but nobody does pancakes better than Bisquick and they did NOT pay me to say that-but if anyone wants to send me some $$, I'll take it)
1/2 cup extra chunky applesauce
1 small Granny Smith apple, peeled and diced
1/2 cup milk
1 tsp cinnamon
1/2 tsp nutmeg
1/4 tsp all spice
2 eggs
In a mixing bowl, stir all ingredients together.  Do not over mix.  The batter will be thicker than typical pancake batter.
Heat griddle to 350° and spray with cooking spray
Scoop 1/4 cup of the batter onto the hot griddle.  Cook until edges dry and turn. Cook until golden. (These take a bit longer than a typical buttermilk pancake to cook.)
Serve hot with creamy caramel sauce.  Yum!
Easy Caramel Sauce
From Simply Designing
1 cup heavy cream
1 stick butter
1 cup brown sugar, packed
2 tsp vanilla extract
Place ingredients in a heavy saucepan.
Heat over medium and bring to a rolling broil.
Remove from heat and let cool before serving (will thicken in the fridge)
The little pieces of apple from the chunky applesauce and the Granny Smith apple cook up perfectly and add a great texture to the pancakes.  The seasoning makes this batter taste just like an apple pie.  You could easily top these with vanilla ice cream and call it dessert! Drizzle some caramel over the top and you will be licking the plate! 🙂
I can't wait to see what everyone else came up with for this round of Get Your Chef On.  They will all be linked up below if you'd like to check them out yourself.  Which one would you vote for?  (besides mine, of course.)
Also linking up with Weekend Re-Treat, Shine on Fridays, Weekend Wonders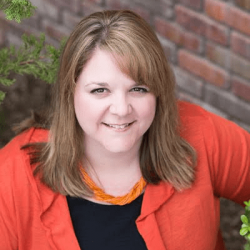 Hi, I'm Nicole!I love chocolate chip cookies, good grammar, and trying new things. Pinterest is my happy place. Come follow me down the rabbit hole!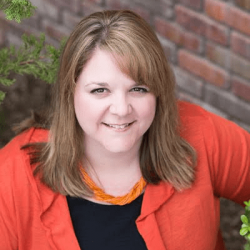 Latest posts by Nicole Burkholder (see all)