A few weeks ago, Heather from
The Frill of Life
was looking for bloggers to participate in Ask Away Friday with her. I've seen similar posts on other blogs and I thought it would be fun. She sent me a list of questions to answer, and I did the same. Here are my answers to her questions, and you can read her answers to mine here on
The Frill of Life
. I had so much fun doing this, and it's a great way to get to know someone else!
1. I know that you just got a new DSLR. Tell us what you love the most about it!
I love that I can now get some depth in my photos instead of everything coming out so flat and lifeless! I have so much to learn, it's ridiculous, but I love the challenge of doing something new.
2. Can you share your most favorite picture you've taken with it so far?
I have a bunch of useless photos because I'm constantly playing with the setting, but this picture of my youngest son, Charlie, was just so bright and the colors are so vivid. I didn't do any editing other than to crop it down a bit!
3. What's your biggest Pinterest fail? Tell us about it. Bonus points for pictures or a link to a post about it!
I get asked this question a lot. I have had several BIG failures, and I posted about every single one of them. 🙂 I like to keep it real. But this one has to be one of the worst. I was trying to make candy corn cobs for Thanksgiving based only on a photo because there was no link to an original post. It didn't go well. You can read all about it here.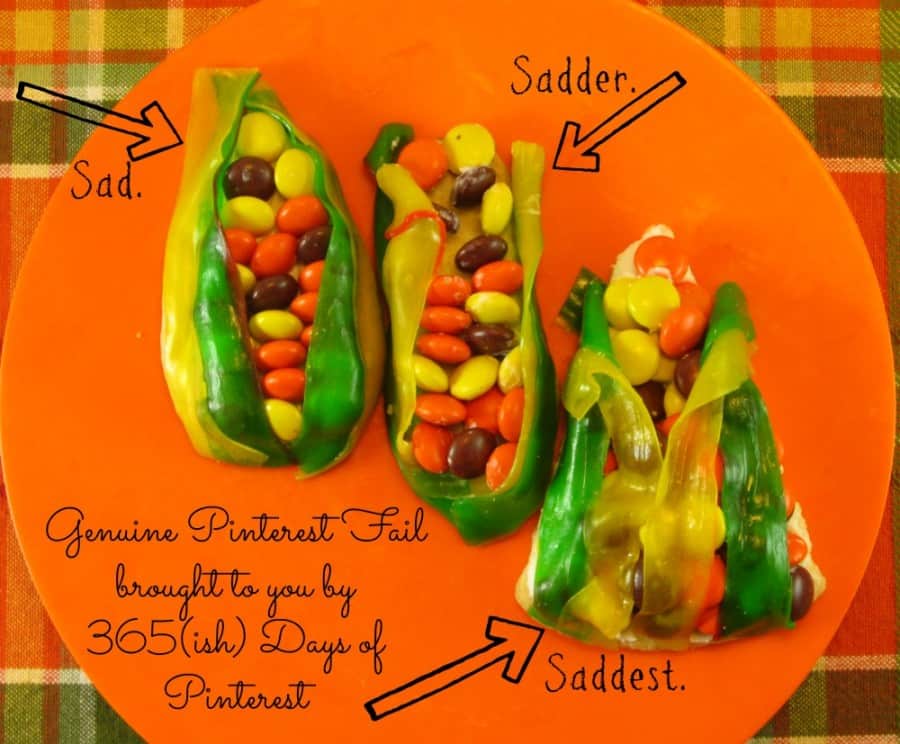 4. Oh. My. Goodness. Those Cinnamon Roll Waffles you posted last month on Twitter look amazing. Can you share the recipe?
Sure. It's very difficult. Are you ready? 1) Open a can of Pillsbury Cinnamon Rolls. 2) Place 4 of them in a hot waffle maker. 3) Close it and cook for about 30 seconds. 4) Remove, cover with frosting and pig out for breakfast. 🙂 Easiest recipe EVER.
5. Mmmmm. Now I'm hungry. Maybe we can have that with our favorite dinner…breakfast! What's the favorite dinner in your household?
My kids would say pizza. I love anything Mexican, so burritos/tacos/quesadillas or even fish tacos would be awesome! We really like this copycat CrunchWrap Supreme.
6. If you were famous, what kind/color of writing utensil would you always keep close for autographs?
Ha! What a fun question! I love the fine tip Sharpie pens and I prefer blue ink.
7. You recently posted a beautiful picture on Instagram of a new gel polish color. Do you do your own nails, or do you get them done?
I had my nails done with gel polish for the first time back in March when I was going to a conference. I was SO impressed by how long they lasted, I went and got them done again. The second trip wasn't as successful, but they still lasted over two weeks before starting to chip. I'll paint my own toenails, but I need someone to do my fingers for me. 🙂
8. As you probably already know, I'm a total nail polish addict. I'm also sort of a nail polish snob…I only buy OPI. Do you have a preferred brand?
Oh, you're one of THOSE people. 🙂 I don't paint my nails often enough for it to really matter. I do have a set of Revlon "quick set" polishes that I really like because they do set quickly and I'm SO BAD about ruining my nails five minutes after they are done. (Another reason to go to the salon.)
9. You went to Women Get Social!!! I'm so jealous. What was your biggest takeaway?
Get help. I hired a VA and it's been one of the best things I could have done for myself. I love that I'm not chained to my computer for two hours every morning that a post goes live! It was also just a great "shot in the arm" as far as being motivated to continue pushing myself to grow this blog and try to make a living doing what I really enjoy!
10. Quick! Grab that new camera (if you dar) and share with us what is under your bed at this very moment. (Pictures not necessary, you can own up to it in words if you'd rather…)
I tried to take a picture, but it was too dark. I have a large shallow box of keepsakes, several water bottles and caps, a stray sock, a few toys and a plate. A PLATE? WHY? Time to deep clean my bedroom again!
**Bonus: Answer a question you asked me.
1. What would be the best prize you could win in a giveaway?
If I see one for a Kitchenaid mixer, you can be sure I'll enter it! I used to try for the DSLR cameras, too, but I just gave up on that one and got my own. 🙂 But if someone was giving away a vacation, THAT would be the best thing to win!